Graffiti CMS finally gets some love
After over a year of complaints and failed promises by Telligent, the once loved and recently hated, Graffiti CMS, has finally gone open source (Official Press Release). Believe me there was a huge amount of frustration gaining over this product, mostly for its owners utter lack of communication and upkeep (telligent). And I should know, you are reading this from an officially licensed site…
I think a lot of my frustration is that this was a great example of a simple Asp.Net app that just worked and was well designed. It was theme ready and plug-in ready from the start and even has a simple scripting interface, oh my. To this day, even with the advent of Asp.net MVC and several open source projects (1, 2 ) on codeplex, I haven't seen a comparable free or pay .Net blog engine that offers the same features and ease of use.
Here are some screen grabs of the admin interface: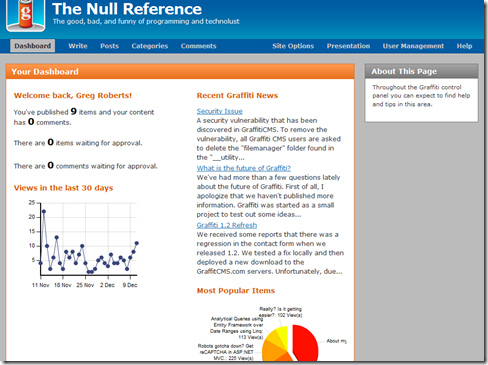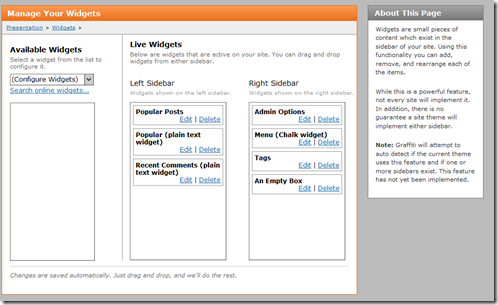 Overall it is just a solid UI with a lot of good concepts going for. Now I do cringe a bit since this was written before Asp.net MVC and I believe that could ultimately lead to its death in my mind, but I do think that with some effort it could be raised from the ashes and resurrect itself as "the" Asp.Net blogging engine of choice. If anything it's a great opportunity to look at some nice coding ideas and design.